Abby Eller on "The History in Historic Union Cemetery"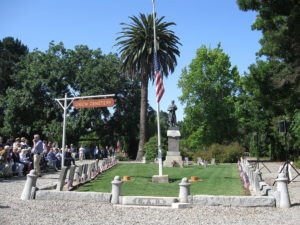 A quarter century ago, Jean Cloud led a coalition of concerned citizens in our area, who fought hard to save Historic Union Cemetery here in Redwood City, from being lost to demolition and commercial development. Historic Union Cemetery Association has worked ever since, to continue to restore and maintain this national and state historic landmark. What is so important about Historic Union Cemetery?
Abby Eller shared some of the many stories that Historic Union Cemetery has to tell. We found out why Redwood City is called that, and why it was originally called Mezesville. How a man in our area had a town and lake named after him. The Grand Army of the Republic had a burial plot in Union Cemetery. You'll hear about their importance, and their women's auxiliary, to Civil War veterans. There were a few other stories as well.
Abby Eller joined the Redwood City Civil War Round Table in July of this year. She and her husband Dave live in Menlo Park. Abby has been an American history buff ever since high school. In 2013 she joined Historic Union Cemetery Association based here in Redwood City.