David Moore on "William S. Rosecrans and the Union Victory"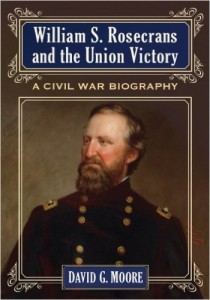 David described how General Rosecrans fought in our theaters of the war: West Virginia 1861, Northeast Mississippi 1862, Tennessee 1863, and Missouri 1864. He explained why relatively few people today know much about him and about the political machinations that caused him to be removed from command four times. He raised the question of whether Rosecrans deserves to be more remembered today and what should be done to achieve that. David also touched on the general's personality. He has been called the only general of genius on the Union side and his interests ranged from engineering to theology.
David Moore has been a history guide on the east coast with a particular concentration in his native Washington DC/mid-Atlantic region for more than 35 years. He accidentally came upon the story of General Rosecrans while looking for the grave of Mary Surratt, and has spent more than 20 years researching and writing his book.