Dana Lombardy on "How to Evaluate & Review a History Book (With a Handout Guide and Free Books!)"
Author, editor, and publisher Dana Lombardy presents 10 steps that can be used to help decide whether a history (on other non-fiction) book is worth buying. In addition, Dana will present eight steps that are crucial to submitting a book review on Amazon, Goodreads, or your favorite magazines and websites. FREE BOOKS: Dana will hand out a checklist guide and historical books at the end of this talk.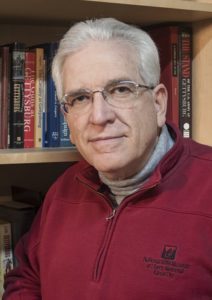 Dana Lombardy was an Associate Online Editor for Armchair General and now does research, writing and design through LombardyStudios.com Dana is best known for his multiple award-winning Streets of Stalingrad board wargame (three separate editions since first released in 1979), and for his nearly twenty television appearances, including multiple episodes of The History Channel's "Tales of the Gun" series. He has contributed as an editor, cartographer, graphic artist and designer on many books, games and magazines, was Publisher of Napoleon Journal from 1996-2000 and published nine issues of World War One Illustrated.