Abby Eller on "Judah Benjamin, The Brains of the Confederacy"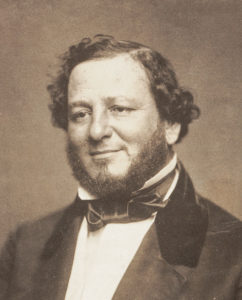 Judah Benjamin is scarcely remembered today. And yet, Jefferson Davis's wife Varina Howell Davis stated that he would meet with President Davis for hours every day to discuss Confederate government matters. Judah Benjamin was known as "The brains of the Confederacy." During the Civil War, Judah Benjamin, Jefferson Davis, and Varina Howell Davis formed a close friendship that lasted the rest of their lives. But when Jefferson Davis wrote his memoirs at the end of his life, he only made the briefest mention of this man. Why was this? And Judah Benjamin's life story after the Civil War was so remarkable, it would be unbelievable if it weren't actually true.
Abby Eller joined the Redwood City Civil War Round Table in July of this year. She and her husband Dave live in Menlo Park. Abby has been an American history buff ever since high school. In 2013 she joined Historic Union Cemetery Association based here in Redwood City.