Howard Jones on "John Paul Jones, An American Hero"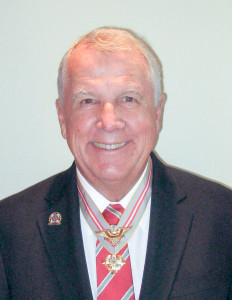 Howard's presentation was about the heroics of John Paul Jones who took the fight for American independence to the British Isles during the Revolutionary War. The epic battle between the American ship, Bonhomme Richard, and the British ship, Serapis, is legendary in naval history. His ultimate victory became the basis for the creation of a United States Naval Academy and a world-power American Navy.
Howard is a Marine Corps Veteran and a graduate of the University of Oregon. He is the immediate Past Commander General of the Military Order of the Stars and Bars. He is a former President of the Silicon Valley Chapter of the Sons of the American Revolution. In addition, he served for 12 years as the Public Member of San Mateo County's Local Agency Formation Committee, (or, LAFCo). Howard frequently gives presentations about American history to elementary grade school children and heritage groups such as the DAR, SAR and the UDC.