Monika Trobits on "San Francisco in the Mid-19th Century"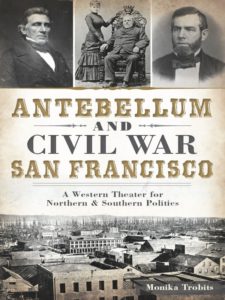 San Francisco in the mid-19th century, an instant city, geographically isolated in the West, yet fated to be the gateway for a worldwide migration in search of golden dreams. Hundreds of thousands made the arduous journey to the fledgling city, including Argonauts who rushed west from the Northern and Southern states. They had seemingly left behind the political, economic and other slavery-related tensions of the period only to find that it had all traveled west with them. Monika's presentation will explore the remnants of the antebellum and Civil War eras as they played out in old San Francisco, a boom town fraught with daily dramas, political rivalries and heated battles over pending statehood.
Monika Trobits has lived in San Francisco for 37 years. A New York City native, she has been studying local history since the mid-1980s. She established her tour company in 2011: www.sanfranciscojourneys.com and developed a walking tour in conjunction with her first book: Antebellum and Civil War San Francisco: A Western Theater for Northern & Southern Politics (published 2014). Nowadays, she also teaches walking history classes for OLLI, based at SF State. Her other nonfiction works include, "Dashiell Hammett's San Francisco in the 1920s" an article that was published in the winter 2011 edition of the Argonaut and her second book, Bay Area Coffee: A Stimulating History, published in February 2019. Monika earned a B.A. in political science/history from SF State and lives down the road from the site of the 1859 Broderick-Terry duel.